Tee It Up! For the GFPD 2016
4 person Golf Scramble - May 19th
Weibring Golf Club at Illinois State University
Pre-Event Reception & Silent Auction - May 18th
ISU Alumni Center
Tee It Up! For The GFPD 2016 is complete! We had a wonderful two days. Both the auction and the golf scramble were a huge success! We are thrilled to announce that we raised nearly $100,000 for the Global Foundation for Peroxisomal Disorders!!!
Thank you to everyone who participated, sponsored, contributed, and volunteered for this extraordinary event! Please enjoy some event photos below and read our full recap here: Newsletter.
Our full photo album can be found here: 2016 Highlights
We hope to see you again in 2017!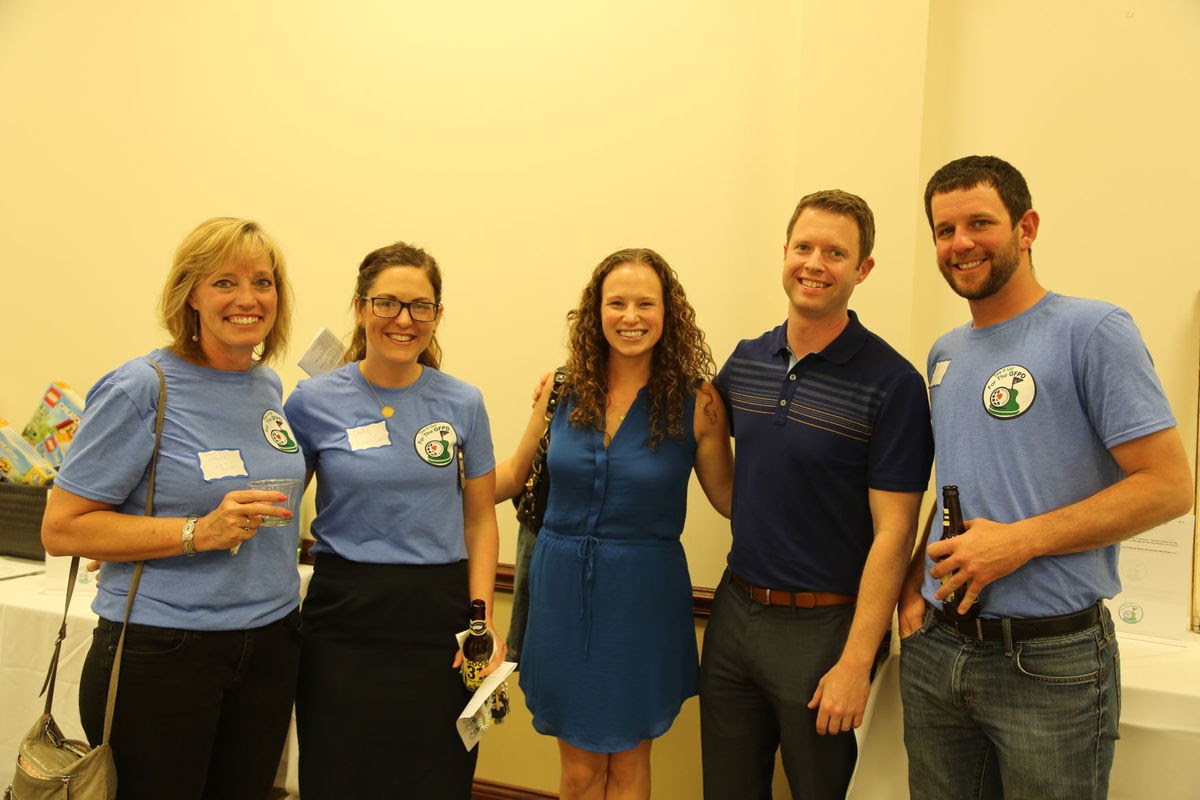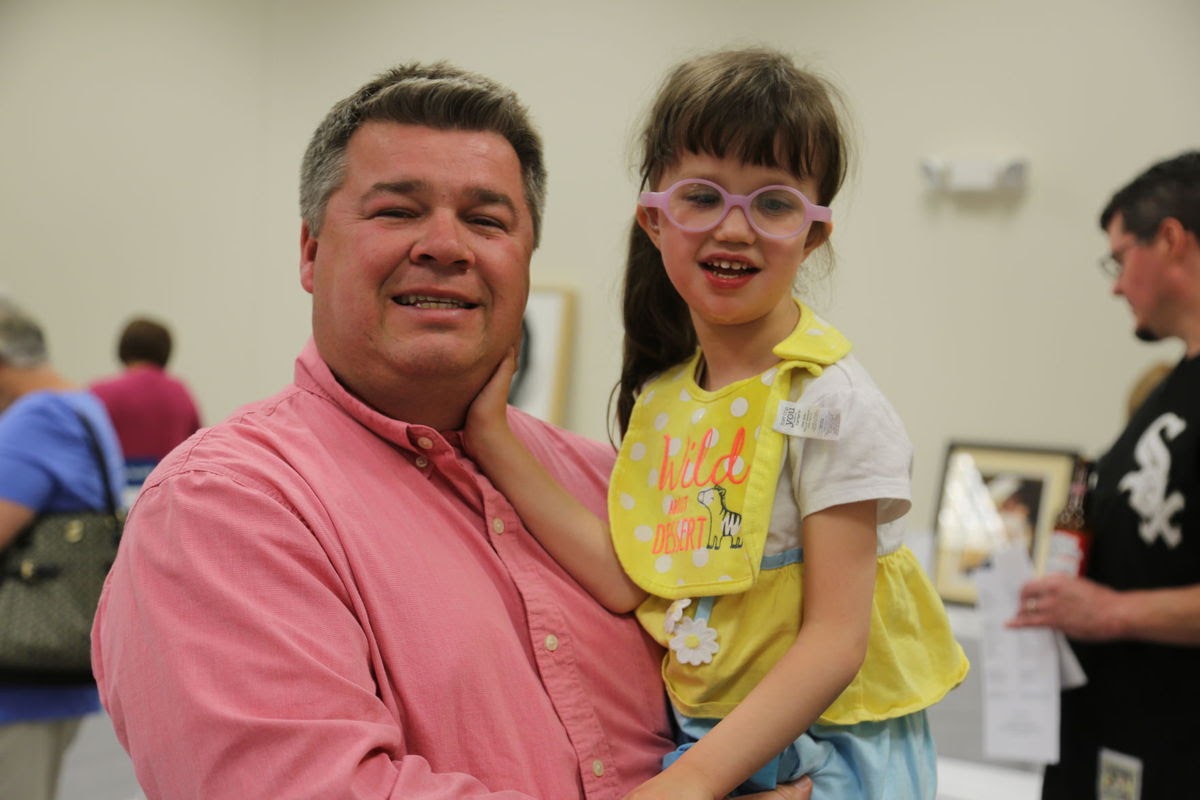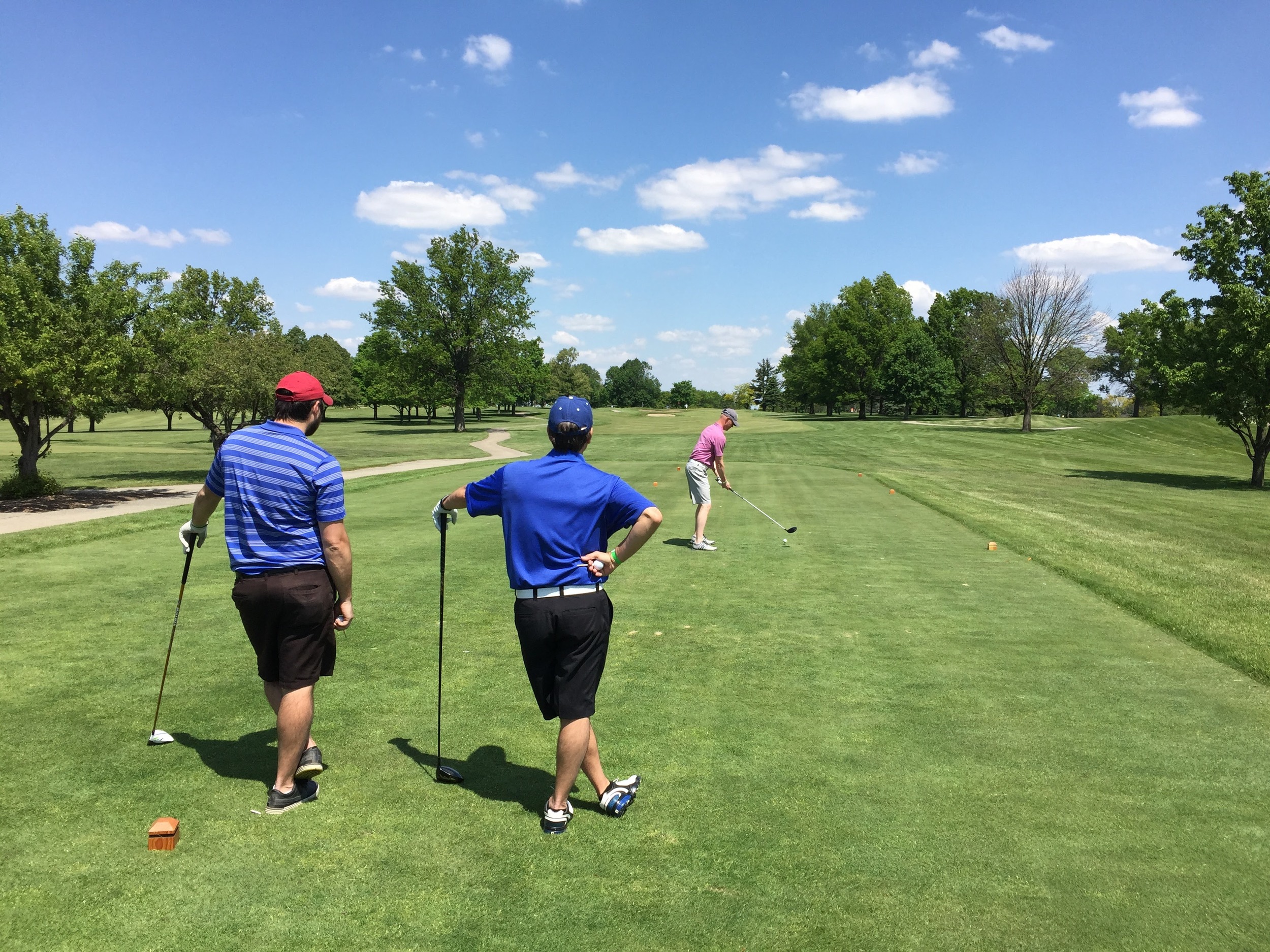 Donate to the GFPD (Please specify "Tee It Up! For The GFPD" under purpose)
When Max Chapman was 14 months old, he received the devastating diagnosis of Peroxisomal Biogenesis Disorder (PBD), a very rare disorder that will cause him to lose his sight and hearing and eventually cause life threatening damage to his kidneys, liver, and bones. Treatments for PBD are very limited and most affected children do not live past the age of 10.
The Global Foundation for Peroxisomal Disorders (GFPD) was created to fund much needed research around PBD and to support those families facing this horrible disorder. Recently, they have made some major strides in their understanding of this disease, but additional funding is needed!
Please join us as we raise money to support this amazing organization!
To learn more about the GFPD and the important work they do, please visit our GFPD page.
Alan & Kathie Chapman
Joe & Faith Herbers
Don & Belinda Franke
Dinner Sponsor:
Greg & Patty Garbe
Beverage Cart Sponsor:
Drake Zimmerman/Jan Elfline Family Fund
Ainsley Wade & Her Parents
Snyder Family Foundation
Barry Chapman & Jessie Norris
James Shaddle
Rick & Janet Percy
Unit 5 Retired Educational Office Personnel
Hole-In-One Contest Sponsors:
Tom & Marsha White
Bob & Cheri Ervin
Rob & Mary Cranston
Rich & Jane Beal
The Rick and Kim Weber Family Trust Fund
Michael Trefzger (Artist)
Anonymous
Bart & Donna Williams
Leo & Sandy Ditewig
Gene & Sharon Oncken
Mike & Rachel Buell
Peggy Hundley
The Otis Family, Stuart Mattison, and Katie Lamb
Todd & Corin Chapman
Bruce Hawkins
Joel & Nancy Kindle
Marty & Cheryl Kinert
Marty Erwin
Yvonne Kaminski
Steve & Deb Wannemacher
Ron & Debbie Price and Eloise Campbell
Dennis & Judy Triggs
Gerry & Marty Brogla
Rick & Kim Percy
Frank & Kathy Niepagen
Steve & Linda Stockton
John & Marilyn Freese
Sam & Pat Perroni
Randy & Jane Middleton
Dan & Pam Kelley
Jeff & Lois Balk
NCHS Class of 1965 Friends of Alan & Kathie Chapman
Bob Dean
Tom & Jodi Zook
Dick Folse (Artist)
Steve & Patty McManus
Adam Silca
Barb Oakes
Hair Sensations
James Shaddle
Don & Belinda Franke
Dr. Chad & Trisha Tattini
Gilbert Hensey (Artist)
Sam & Patty Otis
Stampin' Up
Ron & Debbie Price
Dawn Conway
Unit 5 Retired Educational Office Personnel
Jim & Joan Kindle
Vickie West
Linda Bawulski
Aileen Blomgren
Kathy Crabtree
Julie West Bolduc
Terry Brown
Tim Turrall
The Engle Family
The Eisfelder Family
The Smith Family
The Schlipf Family
Sue Brumme
Tamara Shields
Ryan & Wendy Young
Zach Hileman
Tilley Wood Creations
Kay Oehler
Sarah Kaifas
James Wylder
Mark Hirn, PGA
Annapolis Marine Art Gallery
The Edgar Family, in memory of Benjamin Edgar
Bob & Jill Keller
John & Diana Behnke
Cynthia Kukla (Artist)
Nancy Trefzger (Artist)
Gregg & Michelle Kiesewetter
Michael Trefzger (Artist)
Dorothy Sallee
Downstate Shockwave Therapies
Bill Wright (Artist)
Crafty Creations
May Jackson
Don & Gwen Jaynes
Kevin & Jennifer McNulty
Stephanie Reed - Magical Moments Vacations
Scott & Cathryn Burns
Joel & Nancy Kindle
Jim Armstrong
Jeanette Byers
Loretta Miller
Linda Click
Mary Brant
Cindy Thomas
Bloomington Thunder
Nic Safranek
The Shoemaker Family
The Grojean Family
The Winn Family
Jarod, Colleen, Owen, & Conor Garbe
Mike & Sheila Grogan
Leslie Frizzell
Cara Hieronymous
Erin Burba, Catie Grogan, & John Grogan
Pat & Katie Wagoner
The O'Hare Family
Larry & Maureen Lyons
Josh & Cassie Beal
Amy Naughton
Paula Throckmorton
Debbie Drennen
Gene & Sharon Oncken
Ralph & Linda Lehmann
Cara Hieronymus
Phil & Linda Damery
Adam Larson
Jim & Marsha DeMay
Rev. Dr. John Trefzger
Rob Widmer
Bill & Susie Chaney
Gail Gross
Jeff & Susan Dippold
Michael Dowd
Dwight & Michelle Houchin
Kathleen Kirk
Frank & Lois Lipscomb
Pete & Debbie Borowski
Colleen Reynolds
Christina Kirk
Barb Fowler
Meghan Rogers
Jerry & Debbie Apps
Craig & Melanie Kingman
Mike & Tara Kaiser
VALIC Financial Advisors
Jason & Stephanie Kerber
Kristin Martin
Rick & Lynette Mehall
Pat & Katie Wagoner
Sean & Julie Taff
Rich & Sandra Munizzo
Andrea Bjorkman
Berny Chiaro & Kelly Naperschat
Ryan & Trini Hartley
Ron Timmerman
Carol White
Ron & Mary McClintock
Phyllis Haines
Joe & Geralyn Miskulin
Gene & Helen Grandone
Pat & Judy Fitzsimmons
Cindy Prescher
Mary Ann Ekena
Pat Kernes
Jan Reimer
Judy Marshall
Aileen Blomgren
Mary Brant
Judy Dilley
Joe & Brooke Boyd
Steve Olson
Catherine Bischoff
Mike & Marcia Dennis
Gordon Ropp
Dr. William Semlak
Carl & Jill Enchelmayer
Rick & Kathy Ott
Flora Poling
Margaret Couch
John & Vickie Robertson
Terry & Deborah Lindberg
Ken & Marcia Christensen
Ben & Susan Sykes
Mike & Sharon Evans
Rebekah Strack
Jessica Alt
Jeffrey Schroeder
Shirley Wotherspoon
Matt & Carrie Chapman
Gary & Christy Harder
Ron & Kara Geier
John & Nancy Pye
John & Nancy Wolter
Gene & Nancy Fuller
Bob & Dorothy Kennett
Doug Reeves
John & Liane Ashenfelter
Paul Euler
Steve & Leisa Huyck Temple
Kevin & Erin Engle
The Mundt Family
Shyam Lakshmin
Catharine Crockett
Kevin & Sandy Smith
Dave & Jeri Peters
Lisa Kirk
Rebekka Moran
Melissa Crabtree
Barb Oakes
Blue Springs, Inc.
Mary Helen Haskell
Herb & Norma Honn
Gene & Maureen Schiller
Hope Hall
Seong Ha
Kathy Rabe
Dan & Cindy Nowak
Eric & Marisa Kolman
John & Linda Murphy
First Christian Church CWF
Debra Toohill
Joe & Diane White
Leroy & Natalie Mellondorf
Bradley & Anne Roegner
Leif & Virginia Roll
Lois Budde
Michael & Florence Buchanon
John & Lois Elder
Betty Pendleton
Rita Garrison
Jeanette Byers
Patty Colba
Donna Evans
Twila Eickhorst
Cindy Thomas
Given & Jean Harper
Lisa Stewart
Dr. Larry & Marlene Dietz
Denny's Doughnuts
Gene & Diane Jontry
Ed Tanton
Bob & Carol Hajek
Jackie Hux
Donald & Maribeth Ficek
Jim & Kim Carlock
Chuck & Sue Hurliman
Larry & Darlene Tamburini
Hank & Joan Guenther
Jane Brummet
Ray Fairchild & Leanne Fritz
Bob Fisher
Marla McElroy
Cathy McFadin
John & Barb Grootenhuis
Nate & Heather Damery
Mike & Gretchen Kirby
Kaylee Ficek & Luke Haun
Pete Whitmer
Don & Mary Ellen Gottselig
Susan Redman
Jay & Pam Reece
Doug & Peggy Hardwick
Dave & Kathleen Koth
John & Nancy Bishop
Jeff & Kelli Hill
Phil Loftus
Earl & Rhea Kingman
Jeremy Demuth
John & Barbara Coffey
Roger & Barbara Adams
Ron Frink & Steve Robison
Garrett & Keersten Brogla
Megan Trippel
Jason Weaver
Christopher Runco
Rick Whitlow
Steven & Kim Gregory
Jim Kenyon
Lorin & Barbara Stevens
Mike & Susie Murray
Joe & Julie Blandford
The Schwamberger Family
Ron & Nancy Gramley
Andrew & Alexis Rabe
Drew & Maggie Chyterbok
Jeanine Zanghi Schmidt
Helen Joyce Barclay
John & Barbara Meek
Jim & Sherri Pearson
Ready Cash, Inc.
Steven & Valerie Sosa
Kevin & Jennifer Coppersmith
Chris Senior
John & Laura Dirks
Kay Essig
Ruth Kemp
Linda Click
Loretta Miller
Mary Moody
Sondra Knobloch
Jacki Semelka
Scott & Lisa Lay
Mary Lattanzio
Dr. David & Trudy Strand
Gene Gudeman
Ron & Shirley Irion
Robert Ward
John & Joanne Maitland
Chuck & Kathy Smalley
Gerald & Diane Doty
Cory Tello
Randy & Nancy Phillips
Stan & Sharon Nielsen
Kevin Callis
Madde Hanson
Rusty & Lynette Hendren
Gary & Susan White
Samantha Knackmuhs
Jacob Harlow
We'd also like to thank everyone who donated last fall for Max's 2nd Birthday during our original #PauseForPBD fundraising campaign with the below video!
For more information on Sponsorship opportunities, please visit our Sponsorship page.
Cost
$100 per golfer
-Includes greens fee, 1/2 cart, lunch, and dinner
-Ticket to Pre-Event Reception included in golf registration fee
-Additional tickets to Pre-Event Reception are $20 each
-Not a golfer? Join us for dinner at the golf course - additional guests are $20 per person
Schedule
Pre-Event Reception - May 18th:
6:30 - 9:00 p.m.
Featuring music by Dan Hubbard
Golf Scramble - May 19th:
8:00 - Morning Shotgun Start
12:00 - Lunch
1:00 - Afternoon Shotgun Start
5:30 - Dinner & Awards
Logo Designed by:
Allie Hammer